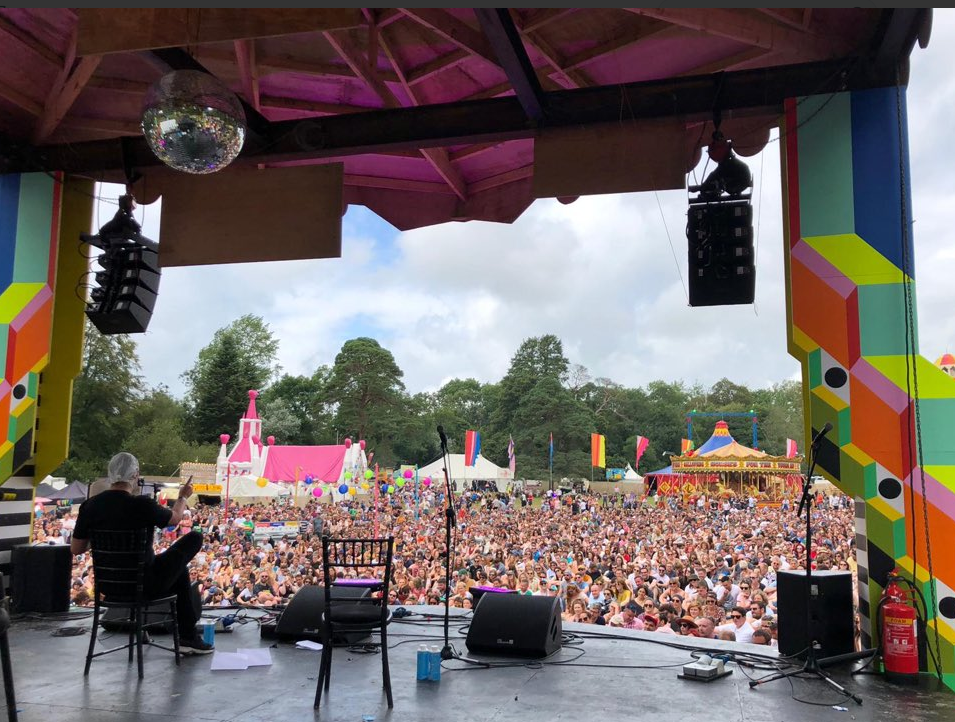 It was a busy weekend at All Together Now. I was really excited about seeing the visuals in particular by Kiasmos and Jon Hopkins.
In Sonar 2015, I saw Kiasmos's visuals and really enjoyed it. This was just before I saw Dubfire's visuals set which changed my life forever [Yes it was that dramatic 🙂 ]
The visuals Kiasmos had were like being in a computer game or immersed in a vert high resolution screensaver. (My phone had quite bad quality video so apologies if it is hard to make out – the audio is horrific so my apologies to your ears)
I liked how there were subtle effects or FX were little bits of atmospheric fluff went across the scene. It's difficult to know what the designer used to simulate this scenery. In particular, I would like to know how much integration there was with the lighting. The lights were predominantly red; would this have had an effect on the actual tone of the scene?
I had other videos up on Youtube but they have mysteriously disappeared. I will see if I can get them up again.
The main event was Jon Hopkins of course.After his amazing video for Open Eye Signal which I just think is the coolest music video ever; I really wanted to see what his visuals would be like. I didn't spoil it by watching his Glastonbury set. What I was very surprised with(and something which isn't hugely obvious from the videos) are the air hostess-style dancers at the front of Jon on stage which have iluminous wands which change colour and gradient with time. My mission this week is to figure out who does the visuals for Jon.
The visuals for the track Open Eye Signal were the original video with a layer of negative imposed on it with some sort of distortion. It was ok, not very music-synced.
The next set of visuals were quite bland also – the pulsing oval for me didn't do much(apologies for the moving camera – I was dancing at the same time 🙂 ). It must be in sync with the audio but it felt a bit lazy and the colour red did not appeal to me. There are some geometric patterns at the end of this excerpt which are pretty cool. Simple and cool.
The next track was Luminous Beings and the visuals(as well as the synchronised dancers with sticks was really cool). By the way the whole set is available here: from the set at Toluca – there are no dancers with sticks though!
The ethereal feel of the music definitely comes across here. The flow of the limbs are really effective and in line with the music.
At a contrast Singularity was very high tempo and the visuals were very loud and moving very quickly. I really liked the colours – red, blue and yellow – and how they worked with the dancer's glow sticks.
I checked over performances by Jon this year and the visuals were different for Singularity. The other performances had a beam of green light which starts across the screen and moves into a perpendicular position.
When I look at visuals from performances, I don't really know where to go next. Do I look at the possible theme? Were do the dancers come into the visuals? Why are videos interlinked with the visuals? Who could I ask about this?
I remember watching the Chemical Brothers live set and looking at documentaries on the two guys. They have been doing it for 20years. It is a very niche area to get into. How would I even find out who does it? Is it a Google or a Quora thing? I will need to put my thinking cap on; and also figure out how do these visuals get put together.
I did get in contact with Printworks to find out who did their visuals but their visuals were not in sync with the music.
I will post to let you know how I got on.